Comrades! As some of you will know I interviewed the creator of Gruntz (if not then check it out damn you!) and I have since then been given and purchased models to use with the game. The models I have bought are from Khurasan and Critical Mass Games. Today I am going to show you what I have picked up from Critical Mass Games. At christmas my brother, in an uncharacteristic show of generosity, bought me one of the Gruntz starter sets, Specifically the Kaamados Dominion. So to that end I will be showing you what that means and what I have been able to do with it painting wise *cough* nothing *cough*.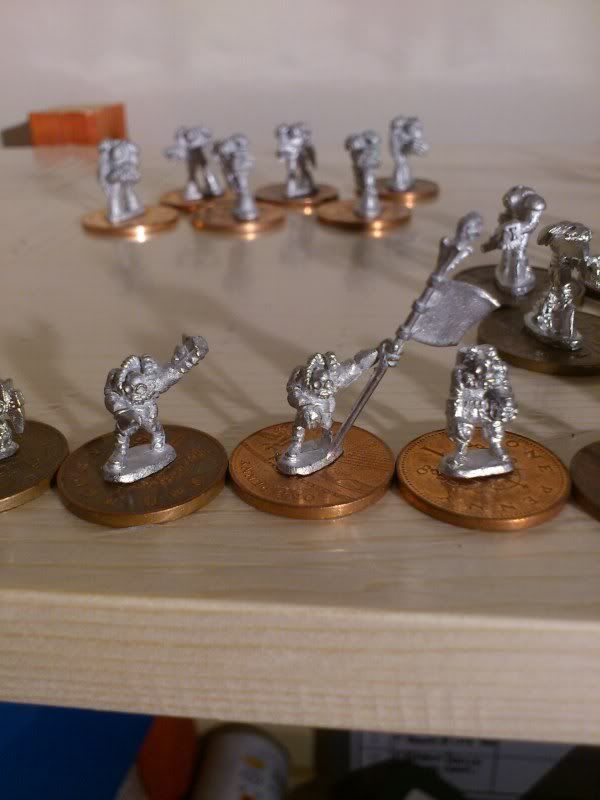 So first we have the smaller Squatmata. I have not read what producers Critical Mass Games had in mind when they created these fellows but they seem to be a fodder unit, lightly armed and armoured. The various model types of unit available in this range put me in mind of Halo's Covenant, Squatmata being very much expendable troops, running around panicing waving their arms in the air just because something Master Chief shaped slaughtered their comrades, while the "next up" make the proper back bone soldiery of the Kaamados Dominion.
These warriors are the standard troops I believe. I like the over all appearance and the sculpts are clean with little flash removal required and seem nicely detailed, though these are my first 15mm scale miniatures so its tough not to feel they are missing something compared to my standard 28mm fare but there simply isn't the space available in 15mm to go overboard on detail. That needs to be saved for the vehicles and walkers really. Speaking of which…
Segway, woo!
 I have 2 vehicles thus far. First I have this resin Scout buggy…
This comes with several options to mount on the roof. A missile battery, an anti-infantry gun of some kind and what I think is the most over sized sensor suite possible for this small vehicle. That's my opinion of course but that's the whole point of this review! I just think something slightly more subtle would have worked better for a sensor suite. By comparison the weapons are fairly small, the gun I feel is perhaps lacking in "gun-like" details but this is a minor gripe, it's sci-fi after all. How many moving parts would you see in a space alien laser turret? The missile battery works well enough for me that I can use them as anti-tank or anti-infantry missiles with little problem and other details on the buggy itself are pretty good.
The resin tank is flipping massive! It came with the tank tracks as seperate pieces as well as the turret and dual gun barrels. It is, I suspect, supposed to be the equivalent to a heavy walker of some kind. Its appearance will be recognisable, clearly Halo is an influence in the CMG bunker. Where it differs is mainly the drivers window (seemed odd at first but my brain then said "Alien space technology window") The turret is a wonderful thing as well. 3 options for armament exist here. Standard "Big Gun" barrels, Mini-gun type barrels or spacey high tech-ish barrels. I opted for these as I decided they could then be whatever I want them to be. Big gun barrels and mini gun barrels having definite target types in my head. Other details on the tank are reasonable, I kind of feel that CMG could have gone nuts with details on a model this size but I can see why they wouldn't. It would visually overwhelm the rest of the forces and look out of place as a result. The casts on both vehicles are clean with little to no flash removal required. The only gripe is the buggy wheels. They were connected to some sprue by the tracks which took away some of the detail when I removed it. But placing them with this part looking at the floor covers it up.
And that, is that. I realise my pictures are not the best and I intend to improve them at some point The peoples Camera is not yet ready. I will Maybe even paint one of the vehicles, you never know. For now though, why not check out Critical Mass Games full range and while you are at it, get the Gruntz Rules so you have something to use them with!

Advertise Here - Click To Find Out More